Planning a wedding can make anyone's head spin.
Combine all of the other elements with the fact that you have to make sure that all of your guests have food that are suitable…..our head is spinning just thinking about it! How do you feed all of your guests with enough variety for your picky aunt or your cousin's kids? Having a food truck wedding might grab your attention, but you should ask yourself a few questions before diving into it. Here are 5 questions to ask yourself (and your spouse to be!) to determine if a food truck wedding is right for you:
Does your venue allow outside catering? – If you are considering using food trucks for your event, the first question to ask is if your selected venue allows food from outside caterers. Sometimes this practice is encouraged, or you may actually have to pay a small fee. Worst case scenario, the venue may have a policy that prohibits outside food altogether. It's best to ask the management team of your venue about their policy before you commit to a location. The next item to consider is where you would like them to park. See your event coordinator for their recommendation so the food will be accessible, but not interfere with your overall event layout.
How do you envision your guests being served their meals? – There are several different ways that you can use a Food Truck to service a wedding depending on your preferences. You can utilize them buffet style, ordering directly from the truck, boxes set out for guests to grab and go, or use a butler to pass out hors d'oeuvres! When weighing these options also consider how fast you would like your guests to be served. Depending on the size of your wedding, you may opt to have guests serve themselves at a buffet, or utilize wait staff to expedite service. Some couples want to treat their guests to a more authentic food truck experience by having them order directly from the truck itself. For this particular style, advance planning is recommended to help serve guests as quickly as possible.
What is the best way to utilize a food truck at your wedding? – Food trucks can provide a variety of services ranging from simple appetizers to entree service either at your rehearsal dinner or reception. Looking for a little more variety than a traditional wedding cake? Dessert-focused food trucks can create a dessert buffet or personalized arrangement for your special day. Consider a sundae bar or cupcakes for guests to choose from to create a memorable experience for all your guests! At Orlando Food Truck Catering we offer not only food trucks for hire, but also comprehensive event planning services. Don't forget to ask us about bar and drink services, table and chair rental, catering management, or our Mobile DJ Truck. We can help you create the perfect event almost anywhere, and food trucks can be utilized for just about any event leading up to, during and after your big day as well – the stag, bachelorette and engagement parties, bridal showers, post-wedding brunch or even a late-night reception snack. The options are nearly endless!
What type of cuisine would you like to serve? – The street food scene in Orlando is pretty unparalleled (ranked #3 in the country by Food Truck Nation) meaning you have a long list of food trucks to choose from! Take some time to think about what cuisine reflects you as a couple, and that would be enjoyed by all of your guests. Are you looking for something culturally authentic? Or food with mass appeal? Some popular options include (but of course are not limited to) Lobster, Authentic Tacos, Tamales, Hawaiian, Grilled Cheese, Poke Bowls, Loaded French Fries and Steak Sandwiches! If you think that's a mouthful, that's just the entrees. Round out your meal with something sweet such as Brownies, Cakes and Cupcakes, Cheesecakes, Coffee, Cookies, various Deep-Fried Desserts, Gelato, Gluten-Free Desserts, Milkshakes, Mini Donuts, Pies, Soft Serve Ice Cream, and Sorbet or a Sundae Bar! Have fun dreaming up a custom menu that best fits your day, and we will help pair you with a truck and chef who are best equipped to bring your ideas to life.
What do your guest list and budget look like? – You may be thinking a food truck is cheaper than a traditional caterer. It can be, but that isn't always the case. When comparing vendors be mindful of the total cost of service. Some catering companies will tack on extra fees at the end, not to mention mandatory gratuity. Our pricing is all-inclusive, and the cost of hiring a food truck takes into account how many hours of service will be needed, as well as the number of guests and items being served. Details like food and labor costs, mileage to the location, and more can also influence the cost of your catering. To get the most accurate quote, have a rough headcount in place and be open to discussion with us. If a quote comes in higher than anticipated, we can help pinpoint what's the biggest cost and help you determine if it's something that can be adjusted.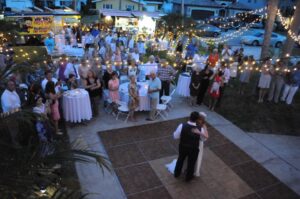 Looking to make your wedding catering an unforgettable experience? Check out our
Orlando Food Truck Wedding Catering page
or call our offices today at
407-900-6481
. You can also leave your information at the form below to discuss how we can help plan your special day, and make it one your guests will rave about for years to come.